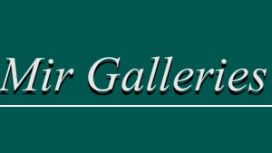 The Persian carpet (Pahlavi bōb Persian farš فرش, meaning "to spread" and qāli) is an essential part of Persian art and culture. Carpet-weaving/knotting, is undoubtedly one of the most distinguished manifestations of Persian culture and art, and dates back to ancient Persia.
In 2008, Iran's exports of hand-woven carpets was $420 million. There is an estimated population of 1.2 million weavers in Iran producing carpets for domestic markets and international export. In recent times Iranian carpets have come under fierce competition from other countries producing reproductions of the original Iranian designs as well as genuine cheaper substitutes.
Persian carpets and rugs have always been and still are an intrinsic part of Iranian culture and its people's daily lives. Indeed, carpets and rugs are in many cases the most valued possessions, and they are an integral part of an Iranian home.
---
Reviews and Ratings
We do not have any reviews about Mir Galleries available right now.